Covid-19 Update, 3 Aug 2020

Register your school for a free Studybugs account to track coronavirus symptoms in your area and communicate with parents.
Keeping Children Healthy and in School
Studybugs is a unique, free platform for schools and parents.
Working with the NHS and other public health organisations, it helps improve children's health and school attendance.
"

This is the best product I've seen in education in a long time.

"
Gavin Oulton, Headteacher, Merstham Primary School
How It Works
Child Ill?
Parent or carer reports using Studybugs app or website.
Studybugs passes on expert advice to improve children's health and avoid unnecessary absence.
School receives sick report, usually before school begins.
Comes via email or our simple, free web portal for staff.
Improves health, reduces unnecessary absence
Studybugs works with NHS and other health experts
Helps safeguard children
Know sooner if any are unaccounted for
Enhances parental engagement
Better information, less chasing, instant replies
Helps prevent truancy
Identity of parent verified (sorry, Ferris Bueller)
Get more benefits via optional add-ons
"

...parents and staff love it, it just makes life so much easier and is saving loads of time every single day.

"
Sally Ellingford, Attendance Officer at BHASVIC
Why It's Free
Studybugs works with public health organisations, with assistance and consent from parents, to help them gather valuable data on illnesses and deliver advice to improve children's health. We're committed to providing our service free of charge so it can reach the widest possible audience.
We fund ourselves by providing optional paid-for add-ons for schools — Attendance and Registers.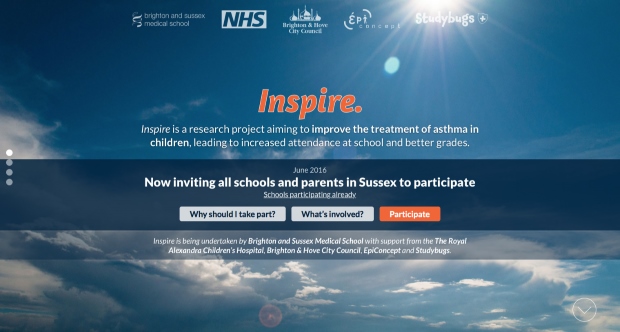 Improving the treatment of asthma in children
Inspire is a collaboration between Studybugs, the NHS, the Royal Alexandra Children's Hospital, the University of Sussex, Brighton & Hove City Council and EpiConcept.
The aim is to improve treatment of asthma in children, leading to increased attendance at school and better grades.
Maintaining High Attendance
We all know that maintaining high attendance is fundamental to delivering a high quality education – and, ultimately, to children achieving the best results they can.
Studybugs helps maintain high attendance by improving children's health. Our optional Attendance add-on takes the idea several steps further, and has helped schools increase their attendance by an average of 0.5% within their first term of using it.
Features
Help Improve Children's Health
Participate in NHS projects to improve children's health and reduce unecessary absence – all happens automatically via the Studybugs app for parents.
Studybugs Apps for Parents
Free iOS, Android and Windows Phone mobile apps with web app for parents without smartphones.
Free Web Portal for Staff
Secure browser-based access for any number of staff with live feed of messages from parents.
Bugs Map
See what illnesses are going around, not just at your school but anywhere in the area, and beyond.
Instant Chat
Send instant, free replies to parents via the Studybugs app (eg to offer help, request a doctor's note, etc).
Keep Track
Keep track of which absence reports have been entered in the register (eg SIMS), when and by whom.
Desktop Notifications
No need to keep checking – see messages from parents pop up right on your desktop.
Reports by Email
If you like, you can have Studybugs send absence reports to a school email address you specify.
Automatic Reminders
Studybugs automatically reminds parents to keep the school posted each day their child is off school.
Help and Support
There's a quick 'Getting Started' guide and comprehensive help documentation. If you need help after that, online technical support (for staff and parents) is provided at no charge.
Parent Pack
All you need to announce Studybugs to parents. Suggested wording, pictures, posters, even a widget for the school website. No messing around with special codes – just direct parents to get the Studybugs app.
For features of add-ons please see Attendance, Registers, Wellbeing and Messages.
For more from our users see Testimonials.
Anything unclear? Check our Common Questions.
Used by schools and colleges across the UK, from 40 to 3,000 pupils
Get Started Now
Register your school now for your free (forever) Studybugs account.
There's nothing to install – all you need is a web browser.
Don't work for the school? Register for a personal account.